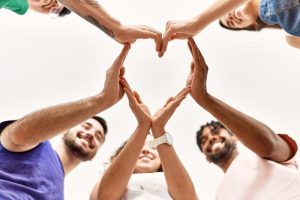 At Spanish Springs Family Dentistry, our passion for exceptional dental care goes hand in hand with our dedication to supporting the local community. Led by the esteemed Dr. York, we take pride in giving back to the community that has entrusted us with  their dental health. Through various partnerships and sponsorships, we actively contribute to local organizations, schools and events that make our community thrive. In this blog post, we will share our involvement with different initiatives and highlight the positive impact they have on the lives of individuals within our community.
Supporting Local High School Athletics
One of the cornerstones of our community involvement is supporting Spanish Springs High School athletics. We proudly sponsor the wrestling, football and basketball teams, recognizing the importance of extracurricular activities in shaping the lives of young
students. Dr. York firmly believes in the positive impact of sports on character development, teamwork and personal growth. By backing these teams, we aim to encourage and inspire our local youth in their athletic endeavors.
Fostering a Love for Baseball
Sports play a vital role in promoting a healthy and active lifestyle among young individuals. As enthusiastic supporters of local baseball teams, we understand the value of nurturing a sense of camaraderie, discipline, and passion for sports. By contributing
to these teams, we aim to inspire young athletes to pursue their dreams and develop valuable life skills.
A Proud Partner of UNR Football Team
Education and athletics both play essential roles in shaping the future of our youth. That's why we are delighted to be a partner of the University of Nevada, Reno (UNR) football team. Through this partnership, we strive to inspire and motivate student-athletes to achieve their goals, both on and off the field. Our commitment to the UNR football team reflects our belief in the transformative power of higher education and the positive impact of athletics on young individuals.
Empowering Young Women: Miss Nevada Event Sponsorship
Celebrating grace, intelligence and talent, the Miss Nevada event provides a platform for young women to showcase their abilities and achievements. At Spanish Springs Family Dentistry, we are honored to be sponsors of this prestigious pageant. Our support for the Miss Nevada event is rooted in our belief in the importance of confidence, leadership and personal growth. By empowering young women, we hope to contribute to the creation of strong and influential leaders within our community.
Community Involvement: The Heart of Our Practice
At Spanish Springs Family Dentistry, community involvement is at the core of everything we do. We firmly believe that actively participating and contributing to our community can create a positive impact on the lives of individuals and foster a strong sense of togetherness. Beyond the dental office, we are grateful for the opportunity to serve our community through various partnerships, sponsorships and volunteer efforts.
Spanish Springs Family Dentistry is more than just a dental care provider; we are a proud and active member of the community. Our commitment to supporting local high school athletics, fostering a love for baseball, partnering with the UNR football team, and empowering young women through the Miss Nevada event reflects our dedication to the well-being and growth of our community. We believe that by investing in our community, we can make a lasting difference in the lives of individuals and contribute to a thriving and cohesive society. As we move forward, we remain committed to continuing our journey of community involvement and making a positive impact in every way we can.