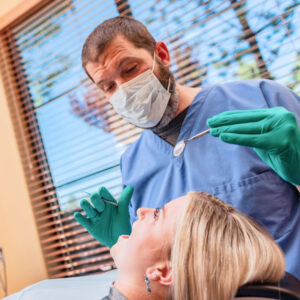 In the same way that having a good relationship with your doctor is important to your overall health, finding a dentist that you trust is important for the long-term health of your mouth, teeth, and gums. In fact, dentists are specialized doctors that provide care for a part of your body that's crucial to everyday activities like eating and articulating your words, as well as the social implications of having clean and straight teeth. With so much of your life dependent on these things, a caring dentist is a must.
However, not all dentists have the same qualification or offer the same services, so doing your research on the kind of care you'd like to receive is a good first step. Let's start with some things to look out for when looking for a dentist.
Qualifications and Experience
Qualified dentists are awarded a Doctor of Dental Science (DDS) or equivalent degree upon completing their training, and qualified dentists will have their degrees and license to perform dentistry prominently displayed in their practice. Look for a dentist's qualifications and ensure they are trained and licensed healthcare practitioners.
A good dentist will almost never work alone and instead will have a team of trained assistants called dental technicians working with them at their practice. Dental technicians are themselves medical professionals and often perform cleanings and other routine care. Experienced dentists will have a staff supporting their practice to help with areas like cleanings, billing, and scheduling appointments.
Experienced dentists also usually belong to different boards and organizations dedicated to advancing the science of their field. Prominent national dental organizations include the American Dental Association or the American Board of Pediatric Dentistry. Inquire whether your prospective dentist is recognized or enrolled in these organizations.
Services and Technology
Not all dentists offer the same treatments, nor do they all carry a certain brand or product. If you are looking to get clear braces, for example, dentists may or may not carry recognizable brands like Invisalign. If there is a specific treatment that you are looking for, it's important to inquire ahead of time about which brands and treatments your prospective dentist offers, and if it's possible for them to supply your preferred brand or product. Call the office ahead of time or look on their website or other published materials for treatments or brands you recognize.
Similarly, there can be a big difference in the type and quality of technology used by different dentists. Look for a clinic that offers safer, more advanced technology that makes your treatments faster and more comfortable. Ask your dentist before your treatment to explain what kinds of equipment they use. This will go a long way in helping you determine the overall quality of the care they offer.
Pay Attention to Reviews
Patient satisfaction is everything to a good dentist, and online reviews are a good way of gauging how happy a dentist's clients are with the quality of service, cleanliness of the clinic, behavior of staff, etc. It's always worth it to check the dentist reviews of someone you're considering treating you or your family. Many quality dental clinics will have their patients' reviews highlighted on their own website for full transparency when it comes to deciding on new patients.
Conclusion
Your family dentist is one of the most important choices you can make for your health. Spending some time familiarizing yourself with the qualifications, services, and reviews of potential dentists will go a long way towards ensuring happy, healthy smiles for your whole family. If you're in Northern Nevada, the Spanish Springs Family Dental team invites you to come on down to our clinic and decide for yourself if we are a good fit for your family! Come join your new favorite dentist in Sparks, NV, today.